It's Sunday night and I'm completing my last post for the week. Yes, that means my What I Ate Wednesday post is really a What I Ate Weekend. That's okay. I won't tell if you don't.
Thanks to Jenn over at Peas and Crayons for hosting the
hottest
party on the web. Where grandmas can hang out with college students, married women can hang out with single women, and fur baby mommies and kiddie mommies can all chill together. Because we all just like food. A lot. Especially me. I'm hungry now.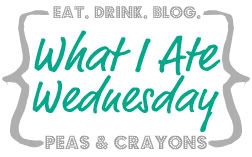 I got a new app for my tablet, because I'm totally addicted to apps. It's
Evernote Food.
And even though it's using the same camera that has always been on my tablet, I'm convinced that my food
photography
is getting better. Or maybe it's because I've been spending a lot of time at the G+ Food Bloggers Community (the best, most informative, non-spammy community ever!). Or maybe it's totally in my mind. Just let me live in my pretend world of fairy princesses and unicorns.




On another techy note, my super-awesome MIL bought me a food processor for Christmas. We just celebrated so I only got it late Sunday (the 27th). Because of that it's some sort of miracle that all my food is not in little bits. I love kitchen gadgets! I did use it to slice the potatoes in the pic above and also in the "Oreo" recipe. Thank you! More food processing to come.
Breakfast over the weekend included one egg and three egg whites scrambled with some whole wheat toast on Saturday and a smoothie on Sunday. Sunday's can be quite hectic so I've go to have my go-to on-the-go breakfast.
Lunch
included a baked sweet potato with salsa and yogurt one day and steamed cauliflower with
Parmesan
cheese another. I was super proud that I didn't load it down with 50 slices of Kraft cheese slices. Baby steps.
Dinners
included chicken with basil cream sauce (Lean Cuisine) and my ever present, get rid of the
potatoes
recipe, roast lemon pepper chicken with potatoes. I told my husband that he really needs to let me switch him to sweet potatoes and explained why white potatoes really aren't good for you. He looked at me in shock and said "Really". I said "yes, really". He shrugged his shoulders and said he likes potatoes. Hmmm...won't be changing that any time soon.
While my husband was
screaming at the TV
watching the Super Bowl I decided to make a treat. I've been finding pins and when I try things, I put them on a secret board that I'm not ready to reveal yet (just not enough stuff on it). Today I tried Vegan "Oreo" Cookies. The pin goes back to an
Earth Balance
website and credits a reader for this recipe so I went ahead and moved forward. But honestly, the recipe is Chloe Coscarelli's (the first vegan winner of
Cupcake Wars)
. I know because I own the book. And I'm not afraid to give credit where credit is due.
I didn't modify this much from the original recipe. I did change the directions quite a bit because I'm super lazy and thought of some ways to make my life easier. Note: this is super, duper sweet so get your non-dairy milk ready.
Vegan "Oreo" Cookies
Yield: 12 cookie sandwiches
COOKIES
1 1/44 cups all-purpose flour

1 cup sugar

1/2 cup unsweetened cocoa powder

1/4 teaspoon salt

1/4 teaspoon baking soda

1/2 cup vegan butter

3 tablespoons rice milk

1 1/2 teaspoons pure vanilla extract
FILLING
1/4 cup vegetable shortening

1/4 cup vegan butter

2 cups powdered sugar

1 1/2 teaspoons pure vanilla extract
Instructions
COOKIES
Combine dry cookie ingredients in a food processor (flour, sugar, cocoa, salt and baking soda)

Pulse food processor until combined

Add wet ingredients (margarine, rice milk, vanilla)

Pulse some more until all are combined

Put mixture into large bowl and knead it

Chill for a minimum of an hour

Once chilled, remove from refrigerator and heat oven to 350 degrees

Take two baking sheets and grease well

Measure out one tablespoon of dough and roll in your hands to form a ball

Place 3 inches apart on baking sheet

Use a glass cup to evenly flatten cookie dough to 1/4 inch thick

Bake for 12 minutes (14 if you like them a little crispier)

Pull out and cool on pan for about 10 minutes
FILLING
In a medium bowl beat shortening and margarine until smooth

Slowly add in powdered sugar and vanilla, beating mixture on low

Once combined, switch to a higher speed and beat until whipped and fluffy

Once cookies have cooled spread filling onto a cookie, top with another. It doesn't really take much to smoosh them together so be gentle.
Small Talk:
What is your favorite kitchen gadget? Your favorite app? Do you use secret boards on Pinterest?