Hi, everyone! Welcome back for a second installment of Five on Friday!. This week is another week of catching up with Carla. Let's get to it. 
[1]
It turns out that I do not have a hiatal hernia! Yeah! Maybe…I do have a hernia but it is called a epigastric hernia. Dr. Neff (my surgeon) is very much aware of how painful they are. and said he could repair it next week if needed. I told him that I have Bloggy Boot Camp on the 5th so we scheduled the surgery for the 8th. And the award for biggest SITS GIrls fan goes to….. I figured I could endure the pain another two weeks so I wouldn't miss this. Luckily the recovery is short (one-two weeks) so I'm just going to take the rest of that week off from work and call it healed. 
[2]
I had a candid conversation with Dr. Neff about what keeps causing my hernia's and he said that given my history he does not want me lifting weights any more. He said a 10 pound limit. That's two five pound dumbbells. He said Yoga, Pilates, etc. are good for me. It puts a damper on my bikini competitor plans. I'm still doing research on how I can reach my goals without lifting heavy weights. I'm sure it will take me longer than my original goal but I'm not willing to take it off the table just yet. 
[3]
A couple of my on-line peeps are having a super event called A Healthy U in the New York area. I'm so excited for them! I would be in attendance in a hot minute if it was at all possible for me. If you're in the area, I highly recommend you go. The agenda looks amazing and way more valuable than the $25 ticket. You should go to the link above and check it out. Then take tons of pics when you go and tag me on Instagram so I can see everything I'm missing. 
[4]
I got the baladea system in my mail on Monday and I'm so freaking excited about it. It's exactly what the doctor ordered. (see above, I'm not lyin'). I've read all the materials and watched the "Hello!" video. I plan on starting on Monday, taking a week off for the surgery, and then restarting. I know it seems silly but I want a little preview before I get going. I'm hoping that I can do a round (11 weeks) and keep you updated as I go. I hate to make any promises but I already had some thought in place about something I wanted to do to help me along to my bikini body journey. We'll see how it goes. I'm not into making promises or big announcements. Something seems to blow up in my face every time I do that. I think I might be a make the announcement the morning it's going to happen kind of girl from now on. It'll keep me from lookin' like a fool! LOL
[5]
Speaking of not making huge announcements, I've known for a bit but only said something briefly on social media. If you take a look at my sidebar you'll see a new badge…I'm a Fitluential Ambassador! I wanted to wait until I got my second confirmation just to make sure I didn't mess anything up. I'm hoping that this will get me more exposure to other bloggers and fitness professionals out there and just maybe bring something to you as well.
Check out Darci, April, Christina and Natasha's blogs for their Five on Friday!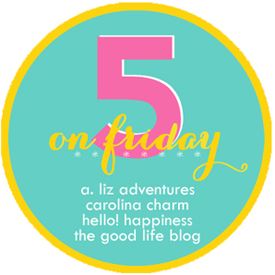 Also be sure to head over to Jill Conyers and check out the fun there! 
Tell me something good…

Plans for the weekend?

Favorite body weight exercise?